Throughout the entire month of January, SecureIt will be putting the spotlight on Gun Walls and everything you need to know about building your own personal gun wall or gun room. From the pro-tips on getting the construction process started to insight on all the components you will need, as well as product deals and specials – we've got you covered!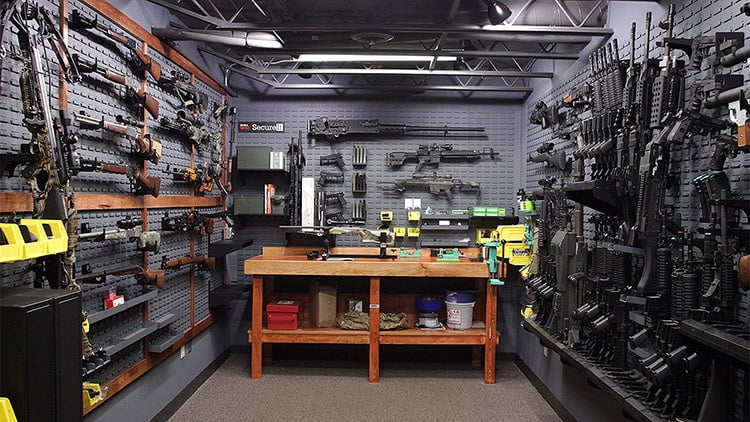 Shop Gun Rooms
Gun Wall Month Specials
Save up to $500 on Pre-Configured Gun Wall Kits
Almost 30% on Custom Gun Wall Panels
How to Build a Gun Room / Gun Wall
Designing a custom gun wall and along with the construction of home gun rooms have become a popular trend among gun owners in America. This is due to many gun owners and collections looking storage that will solve the following:
If you have a large collection, safes and cabinets may not work well for you.
Security can be easier with a properly constructed gun room with a vault door.
Rifle displays look great in the ultimate man cave
Designing Your Own Gun Wall Setup
Gun Wall Month Special – Bulk pricing available on all Steel Grid Panels. Save up to $20 off per panel – LOWEST PRICING EVER
Shop Small Steel Grid Panels Now | Shop Large Steel Grid Panels Now
Read Understanding Gun Wall/Gun Room Panels for more information on installing the Steel Grid Panels when building a gun wall.
The Basics Requirements For Getting Construction Started
SecureIt CradleGrid™ Steel Grid Panels
2 x 4s & Plywood
Level
Measuring Tape
Drywall Screws
Screw Gun
Don't forget to check out our guide on How to Build a Gun Wall / Gun Room for more information on getting the construction of your gun wall or gun room started.
Additional Uses for Steel Grid Panels & CradleGrid™
While CradleGrid™ is a great solution for displaying and storing your firearms, it also comes in handy when looking to build storage space for a shop or workbench. See how CradleGrid™ panels, bins, and trays are used with our in-office workbench in the video below:
See How the Pros Use SecureIt CradleGrid™ to Build Their Armories
For more than a decade, SecureIt has been building armories and storage rooms for the U.S. Military, law enforcement agencies across the country, leaders within the firearm industry, training facilities, and numerous retail consumers and customers. Take a look at some of the gun rooms we've built below and start getting your ideas ready today!
Sig Sauer – Armory Redesign
Daniel Defense – Armory Design
When Daniel Defense moved into their newest facility, they contacted SecureIt to help with the build of their armory on location. The idea behind the design was high-density with multiple levels of storage.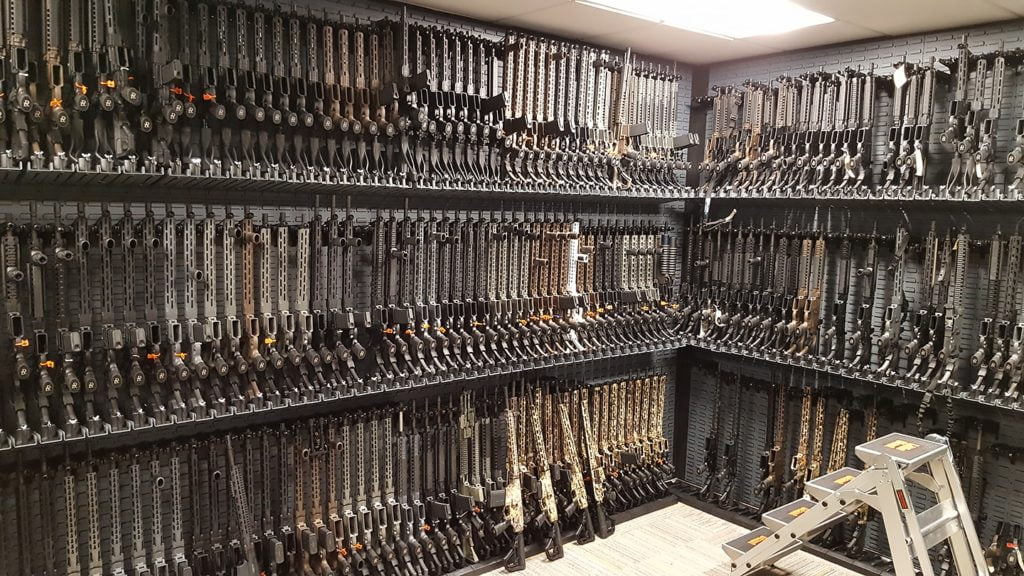 Customer Builds
Many of our customers start with a small gun wall and expand it over time. If you have plans or even the beginning of an idea for a gun wall or room, do not hesitate to contact us. Our expert staff will help you every step of the way as you build the gun wall/home armory of your dreams.