BARSKA Gun Safe – Does Not Work
I am very disappointed in the small quick access biometric rifle safe by Barska, it fails at its most basic function. It does not do what it claims it can do.
The biggest issue we have with this gun safe is the depth. The door is about two inches thick but it is recessed into the cabinet yielding about five and a half inches of usable internal space. The net result is a lack of adequate space for rifles or shotguns.
This gun safe will not hold rifles or shotguns with a pistol grip!
Although the safe is marketed as a four capacity rifle cabinet, We could not fit 4 long guns.
The BARSKA door would not close when trying to store this rifle with a low profile scope.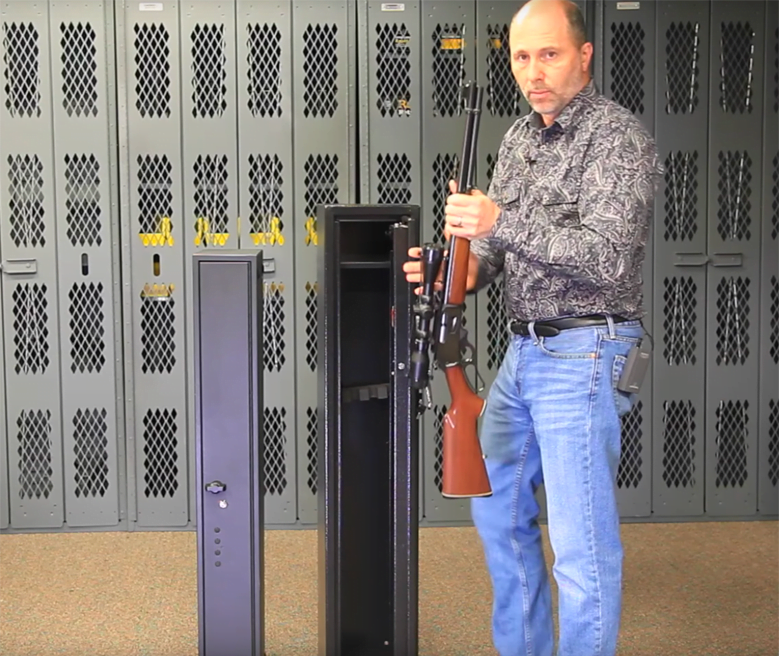 There's no way to close the door. I even experimented by taking the internal panel off the door to see if I could make it work but the gun still interferes with the locking mechanism on the door. Since the door does not close your only option would be to turn the gun sideways, but now you're only storing one gun. This is sold as a 4 gun safe.
The biggest issue with the BARSKA is the depth.
Can not handle scopes or optics!
Rifles with scopes or optics do not fit in the BARSKA, it hits the back of the safe and you can't shut the door. I used my Marlin as an example with a scope that is pretty tight to the barrel and doesn't have a huge offset. Then I tried storing an AR 15, it has to go in sideways it is not supported properly. It was very difficult to balance the firearm in the safe. You would not be able to store any additional firearms with the one awkwardly placed AR15. You can not fit two rifles with scopes in the safe without damaging your gun or your scope. If you've got stripped down old Winchester Model 94 you might get four in but any modern firearm or combination of firearms is just not going to work. The construction quality of the product is OK, it just fails horribly at storing firearms. Five and a half inches of usable space is simply not enough.
In comparison
The Fast Box is 13 inches deep with internal usable space of twelve and a half inches. Vertical Fast Boxes use the CradleGrid System to properly store two long guns with scope/optics attached ( up to 5″ thermal imaging scope) for proper and accessible storage. Originally designed for law enforcement applications, the Fast Box stores any length firearm up to 45.5″ in length with accessories attached. For example, this safe properly stores an AR 15 with optic and magazine. You can lock the gun in a fully ready to roll fashion and it's still quickly accessible ( popular with Rapid Response and Reaction Teams). What it gives you is proper storage for any two long guns with optics attached in a fast access locked safe. You get proper storage for the stated number of rifles. The Fast Box secures any two rifles with any size optic. You even have room above to store handguns and ammo.
The Fast Box Model 47 properly stores both a Marlin and an AR Super SAS with scopes attached.
The BARSKA is about the same price as the Fast Box but they advertise it as a four-gun safe. You are not going to fit four guns in it. You can fit one maybe two and at that point, anything with a pistol grip or a scope is going to bang into each other. They're not going to fit properly. So when you're looking at small gun safes you've got a decision to make and it's one of reality versus myth.
Added Value: The Fast Box can be used horizontally mounted under a bed and on a closet shelf.
Vertically the Fat Box it gives you unlimited options to store any two firearms with a lot of flexibility at a very affordable price. The safe is fully seamed welded heavy gauge steel with full-length piano hinge door with three points hardened steel locking system.
Shop: Hidden Gun Safes