How to Get Started With SecureIt's Firearm Storage Solutions
This week at SecureIt, Ryan and Tom share a major company announcement. Additionally, you'll hear firearm storage tips for customers who may be new to the brand. Learn the path to a successful gun storage system, what products to consider, and how SecureIt products can fit any living situation.
Start Small, Expand Efficiently
If you're a first-time gun owner, chances are you're looking for a simple storage product that's on the smaller side. However, why not think ahead so you're prepared for future purchases? A customer recently told us that he obtained his conceal carry license and purchased his first handgun. He was looking for a basic handgun safe that he could store in his bedroom. He also mentioned that he was a hunter, owned rifles, and was looking to purchase additional handguns and gear later this year.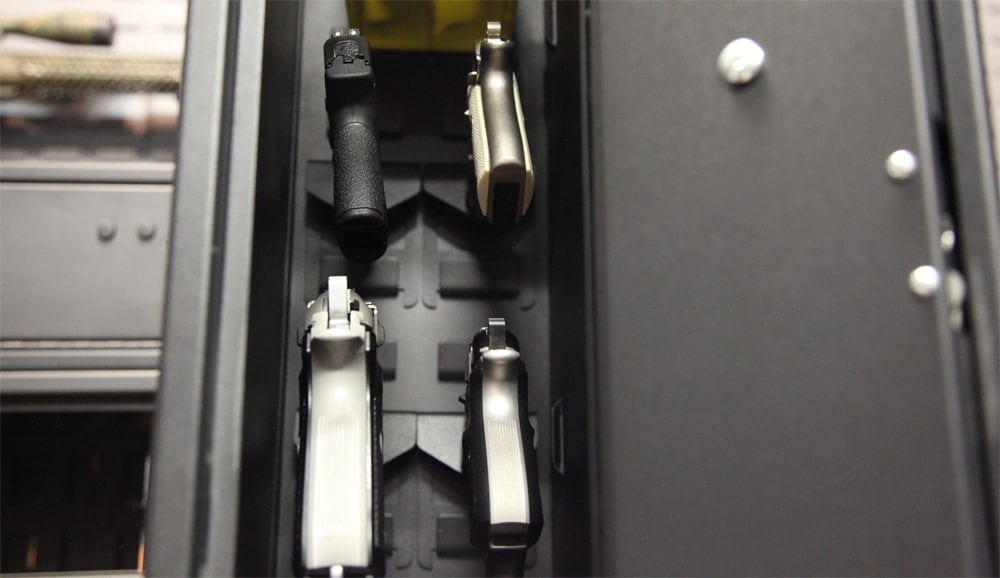 We told him that while we don't produce a small handgun safe, we do have an efficient solution. We recommended he purchased a Fast Box Model 47 and use it in a vertical orientation. That way, he could have quick access when he needed it, and also, have room for additional gear and firearms. He decided to place an order and has since placed an additional order for another Fast Box 47 with CradleGrid Accessories.
When it comes to building a gun wall, you're likely not looking to build out an entire room. Also, you might not even have enough firearms to warrant purchasing a full Gun Wall Kit. In situations like this, we suggest starting with what you need. This way you won't get overwhelmed and you won't have unnecessary storage components. Many of our customers start with a small gun wall and expand it over time. If you have plans or even the beginning of an idea for a gun wall or room, do not hesitate to give us a call. Our expert staff will help you every step of the way as you build the gun wall/home armory of your dreams.

The Truth About Firearm Storage
Before you consider buying a gun safe, know the truth the gun storage industry won't tell you. For years, consumers have been failed and misled by the gun safe industry. Gun safes are meant to be secure and should keep your firearms protected as well as stop threats of theft.
Recognizing their failure and falsehoods, we have set out to change the way people store their firearms. By introducing new ways for gun owners to safely store their firearms, gun owners finally have the answer to the problems and issues introduced by the gun safe industry.
Missed Out on the Latest From SecureIt?
See what you might have missed throughout the month of July –
Gun Storage for Home Defense
Ryan and Tom discuss the benefits of storing your firearms for home defense. They'll highlight why you should store firearms throughout the home as opposed to storing them in one single location. You'll also learn which products work best, the locations you need to consider, and why it's a beneficial method of gun storage.
Changing How the Military Stores Weapons
Ryan and Tom dive into SecureIt's military roots and how the company came to be. Learn about Tom's early days of touring military bases across the country and the problems faced by many armories. Also, you'll hear how the idea of storing firearms for the military resulted in SecureIt becoming involved with the retail gun storage industry.
Custom Gun Rooms and Home Armories
Ryan and Tom show off a full view of the custom gun room you see every week. Learn how the gun room came to be, the breakdown of the different sections, and how you can start production of your very own ultimate gun wall, gun room or home armory!
Gun Storage and Customer Success
Ryan and Tom are highlighting customer success stories. Learn how gun owners use CradleGrid to build custom gun walls, create unique storage systems, and set up their Agile Model 52 for max storage efficiency.