See the Complete Gun Room Build Process
Touring the SecureIt Hidden Gun Room
This week at SecureIt, Ryan and Tom pull the camera back a few feet to show off a full view of the custom gun room you see them in each and every week. Learn how the gun room came to be, the break down of the different sections, and how you can start production of your very own ultimate gun wall, gun room or home armory!
To learn details about building your gun room or gun wall
See Post:
How to design and build a gun room
Here we go into the details of measuring, planning and installing a system.
Product Feature of the Week: Gun Wall Kits & Gun Wall Components
Gun Wall Kits:
Everyone dreams of having their own gun wall to display their collection of firearms. Now, you can do it with an easy-to-install, easy-to-configure SecureIt Gun Wall Kit. Gun owners can fully customize their gun wall however they want and reconfigure it in a number of ways. There is a gun wall kit for every situation, and expansion is easy with additional kits or CradleGrid accessories.
See all of the Gun Wall Kits SecureIt has to offer by visiting the Gun Wall Kits product section.
Customizing Your Own Gun Wall and Gun Room
If a gun wall kit seems to be too exorbitant for what you're looking to display or you're not quite ready to build an entire gun room, you can always start small. Think of your gun wall or gun room build as a marathon and not a sprint. Our armory design team can provide you with detailed information on how to start with a small gun wall and how that small section can turn into an amazing gun room or home armory.
That is the great benefit and intelligence of SecureIt's CradleGrid system. Not only does it allow for quick adaptability to accommodate firearm storage, but it also allows for storage that will meet your needs. Whether you want to store vintage rifles, a plethora of related gear or a just a little bit of everything, CradleGrid can store and display it all.
SecureIt's Facility and Home Armory Designs
Sig Sauer
Sig Sauer is respected as a manufacturer of some of the highest quality firearms in the world. The team at Sig has a great appreciation for design, precision workmanship and total quality. That's why Sig Sauer uses SecureIt weapon racks and cabinets throughout their facilities.
Click HERE to see more on the Sig Sauer Armory Redesign.
Daniel Defense
When Daniel Defense moved into their newest facility, they contacted SecureIt to help with the build of their armory on location. The idea behind the design was high-density with multiple levels of storage.
This is the room prior to the start of construction.
Here is the armory during the construction process.
Here is the Daniel Defense Armory once the construction process was complete.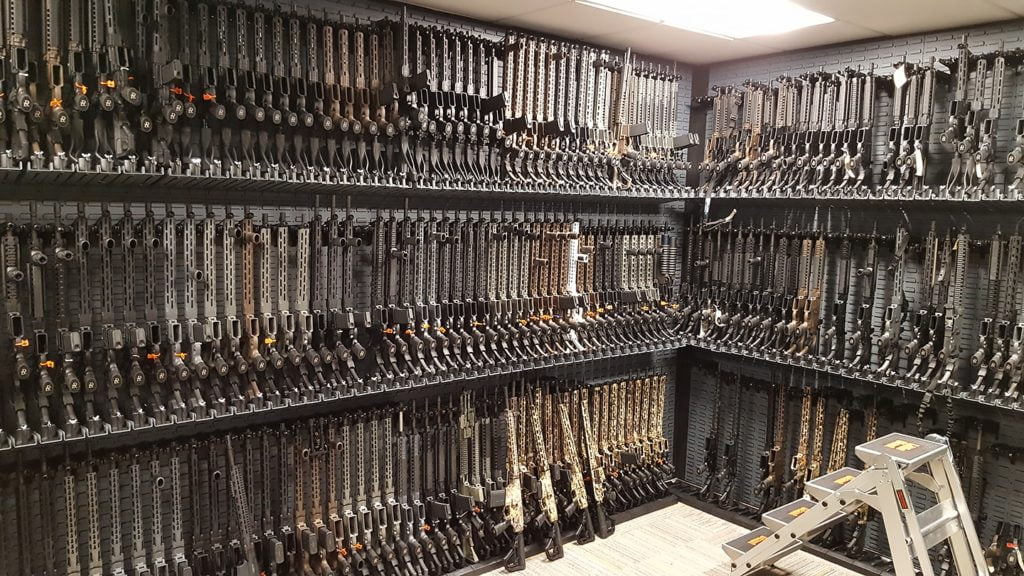 How to Build Your Own Gun Room
Building a gun room and gun walls has become a popular trend in America. There are many reasons to consider a gun room.
If you have a large collection, safes and cabinets may not work well for you.
Security can be easier with a properly constructed gun room with a vault door.
Horizontal displays look great in the ultimate man cave
When it comes to building a gun wall or gun room, SecureIt's armory design team can provide gun owners with a custom quote and design for what they're looking to build.
Visit our Knowledge Vault for more information on building your custom gun wall or gun room today!