What's in this article
Gun  safes: from 1850s till now
How venture capitol  killed quality in lieu of profits
Why security and fire ratings are no longer valid
What you need to know
Gun Safes are not secure against modern threats
Modern gun safe ratings are vastly overstate
In the past 10 years we have seen wall street investment firms move into the gun safe business. Liberty Safe in owned by an investment firm. in 2018 Canon safe company purchased the larger Stack-on company. This was funded by Wall Street investment money. When gun sales surged in the Obama years, Wall street looked at the safe industry as a growth opportunity. The result is these poplar safe companies are no longer working to make the best product possible for their customers. They are all working to maximize shareholder value. The result is make the cheapest safe you can and sell it for as much as possible.
SHOT Show Presentation
Tom takes you through a detailed look at the gun  safe industry and how it failed.
The gun safe industry is as American as apple pie and the wild west. Built on thick heavy US steel, glossy paint, and fancy pinstriping. Unfortunately, this industry has lost its heritage. Gone are the days of real American gun safes and the men who built them, the achievers, the men whose word was their bond. The American "modern gun safe" industry is now run by wall street, spreadsheets and analysis reports. This is a brief history and an unfortunate story.
Early Safes
Safes in one form or another have been around since the days of Julius Caesar. The first safes were used centuries ago in many cultures and nations. Egyptian vaults and treasure temples are one example. The Greeks stored a variety of valuables in safes made from bronze. Leaders in the ancient Roman empire created iron and wooden chests to store valuables.
As time went on, safes became increasingly complicated. They were not practical and were frequently cumbersome and difficult to operate. The first safes with swinging doors were manufactured in the 1700s in England.
It wasn't until 1835 Charles Chubb, an English locksmith patented the first burglar-proof safe. He established a large safe-factory in London. He died in 1845 and was succeeded in the business by his son John. John Chubb patented various improvements in the products and grew the company significantly. Today known as Chubb Locks.
In the US, as any history buff of the mid-1800s and the turn of the century knows, safes have played an important role. Gold was king in the development of business, commerce, and outlaw gangs. But the history of safes extends far beyond Butch Cassidy and the Sundance Kid.
"Iron chests" as they were called then, were designed to protect against burglars. They were not fit to protect against fires or other natural disasters.
In the 1820s, Jesse Delano started manufacturing safes in New York City. He created a new way of producing fireproof safes. He coated the wood foundation with a clay and lime, to render it incombustible. It was then lined with thick steel. Jesse is credited with the first US Patent for a fireproof safe design.
The First Gun Safes
The modern gun safe has its roots in the 1850s designs of Silas Herring. He used thick outer steel, plaster, and thin inner steel to create a fireproof gun storage safe. His basic design is still used in fire safes today. Some of the materials and filler have improved to meet modern demands. But for the ultimate in fire protection double walled steel filled with plaster or cement, is still king.
Modern gun safes, unfortunately, no longer use this construction method. Gun safe manufacturers split from the rest of the safe industry in the 1980s.
Are Gun Safes No Longer Fireproof?
Gun safes of today are not built to Herring's 1850 standards. To reduce costs and speed production, gun safe manufacturers have cut corners in a massive way.
Gun Safe Designs
In the 1970s gun, safe manufacturers dropped the Silas Herring design. They eliminated the thick outer steel; they eliminated the concrete or plaster filler. The thin inner steel became the outside of the safe. They then lined it with drywall and covered that with carpet. They claim the drywall is for fire protection. I believe it was to add weight back into the safes. There is a perception that a heavy safe is a secure safe. Weight has nothing to do with fire protection or security.
 Original Silas Herring fire safe design  Modern RSC design
We all believe that these modern safes are fireproof. However, per U.L. Laboratories Standard 72, they are not fireproof. Technically, they are not even considered to be true safes.
This move to cheaper materials and designs happened slowly and almost secretly. When the move was made to a single wall, the industry did something a bit sneaky. They no longer met the UL standard for a gun safe. They went to Underwriters Laboratories (UL) and created a new classification. These new cheaper cabinets are classed: RSC – "Residential Security Container". Notice the classification does not use the word "safe". UL would not allow the word safe in the classification. Because the RSC containers do not meet the minimum performance standard to be called a safe.
Please note:
In all fairness, there are still some "real" gun safes made in America. Amsec makes a few U.L. Class TL-30 gun safes and there are some very well made custom safes available.
Fireproof? No
As technology advances, you would think that gun safe fire ratings would improve. Just the opposite has happened. The industry has completely moved away from fireproof gun safe production. The U.L. RSC classification has nothing to do with fire ratings. There is no fire component to the RSC rating. A sticker on the door that says "Fire Certified" or "Fire Tested" really means nothing. Unless it says "UL-Class 72 350-X", it is not a certified fireproof safe. The fire rating and tests are created and conducted by the manufacturers. They basically create a test that they can pass then put a sticker on the door that says certified fire resistant.
See "Your gun safe is NOT fireproof! Just ask any fire chief".
Gun Safe Interiors
Early gun safes were designed for basic Winchesters. Rifles of the day were simple compact with iron sights. There have been many changes since then. In recent years, we have seen great advances in rifle, shotgun, and optics technology. The modern sporting rifle (AR15) is the top-selling rifle in America. These new firearms do not fit into the old gun safe interior designs. The industry has had many years to adapt, but they haven't.
The gun safe industry has not changed interior design one bit. Why are they so slow and hesitant to adapt?
Military style storage
In 2016 SecureIt introduced CradleGrid to the US consumer market. CradleGrid technology was developed under contract with US army special forces. It is a simple system by which US military forces store and organize weapons and associated gear.
US Military Force Modernization
In the late 1990's, the military replaced the traditional battle rifle with the modular M4 and incorporated optics and electronics. While the result was a superior fighting force, there were still problems. Gun racks and storage systems were designed for basic M14s and M16s and the new weapons and gear would not properly fit.
Basic M16 rifle replaced by M4 weapon system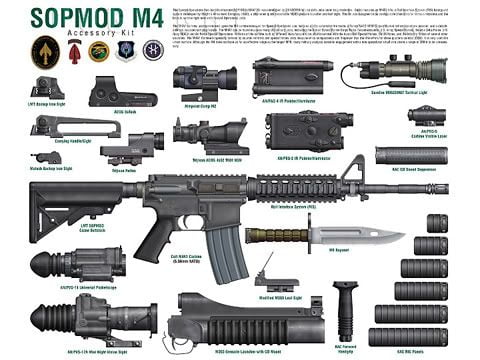 SOCOM M4 with SOPMOD Block 1 & 2
The Gulf Wars created a rapid advancement in weapon technology. Things were changing so fast storage designs could not keep up. The armory storage problems came to a head when several Special Forces armories failed basic inspections. Army Special Forces Command (USASFC) put out a solicitation for an arms room assessment program. SecureIt won the contract. They spent the next 18 months working with Special Forces units and command. The task was to identify problems and make recommendations. The result was CradleGrid Technology. A simple easy to use and understand weapon storage platform. CradleGrid had just one moving part. It can store all weapons in a military armory and provides proper storage for precision rifles with optics. Introduced in 2008 CradleGrid has completely changed the way the military thinks about weapon storage.
The consumer hunting and sports shooting market has gone through similar changes. There has been a broad move to MSR style modular firearms. The basic shape of the rifle has changed. The introduction of affordable quality optics has further complicated storage. Even traditional rifles and shotguns now have scopes or red dots. Will the gun safe industry adapt to these changes? No. It does not look like they have anything in development.
The future of firearms storage has to accommodate the changes in rifle format and optics. The gun safe industry continues to build what they want to build and repeatedly ignore the needs of their customers.
Through the introduction of CradleGrid Technology, SecureIt revolutionized military armories and is doing the same for home firearm storage. With SecureIt now in the leadership position for firearm storage, will the traditional gun safe industry be able to catch up?
Learn more - Gun Safes and storage
Todd Burgreen of Small Arms Review offers an inside look at how SecureIt was founded, and the ways it which the company breaks the traditional mold of gun safes to create an innovative new storage system for the everyday gunowner.
Read More »